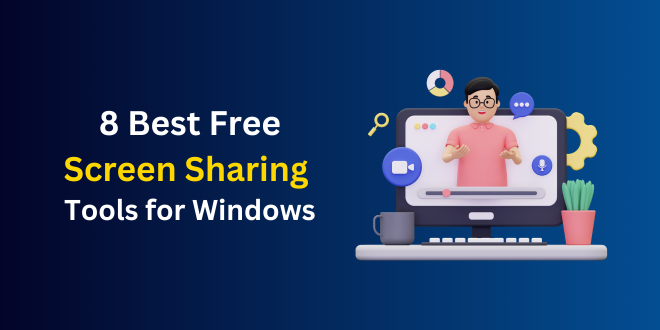 Despite being physically separated from each other, screen sharing is the best solution that allows you to show what is on your screen to everyone at the same time.  
Users can share their desktop screen in real-time with screen sharing tools, allowing others to observe their work and action on the computer. Sharing the screen, it would be very easy to discuss a topic, a working area or a demonstration, and screen sharing tools will help you with it. Indeed, screen sharing is the solution that enables team collaboration.  
Here are some free Screen Sharing Tools have a look at them: –  
Zoom

 
Zoom offers multiple ways to log in to the app. Zoom is best if you need a comprehensive screen-sharing solution with many sophisticated features like huge conferences. Once you sign in or create your account, having a conference meeting and sharing your screen is effortless, as it is visible on your app's home page.
The best feature of Zoom screen sharing tools is HD Video and audio; you can even record meetings and add a larger team. To share the screen, enter a meeting ID. The Share Screen option is also available when you start a discussion. Zoom provides one of the most flexible screen-sharing tools compared to its rivals.  
ZoHo Meeting

 
One of the free screen sharing tools for online collaboration and remote work is Zoho Meeting. Online meetings allow you to collaborate on documents or presentations with your team while sharing your screen. There are many features of Zoho Meeting screen recording, remote device control, file sharing and transfer, cross-platform access, audio and video conferencing, and one of the best in screen sharing. The Zoho app even allows you to share your presentation if it is on your mobile. Also, it is effortless to operate. Therefore, if you are searching for some easy and best screen sharing tools, ZoHo Meeting is one of them.    
Google Meet

 
For practically every software service, Google offers a competitive offering, including Windows screen sharing tools or programmers. Google Meet is one of these apps, and it offers a straightforward user interface that makes it simple to use. One of the key benefits of the app is this. Also, the symbols make each icon's meaning more understandable to non-technical individuals.
Once you begin screen sharing, you can click the button to select a specific window or tab in addition to normal screen sharing. Google Meet is available both online and as an application. Indeed, most people prefer, or use google meet, and that's why it is the most used screen sharing tools of all. 
Loom 
Regarding screen sharing tools on Windows, Loom has an entirely different strategy. You can click "Record" right away, unlike other systems where you can only do this when the other members are online. You don't have to go through further steps to begin recording after you log in. There are three benefits of Loom: Screen and webcam sharing, which come with presentation speaker notes and recorded Loom screen sharing tools.   
Windom Remote Desktop

 
Why should we hunt for screen sharing tools for Windows when Microsoft has one already? The professional edition of Windows has a built-in screen-sharing feature called Windows Remote Desktop. Based on the patented Remote Desktop Protocol technology, Windows Remote Desktop works flawlessly with any Windows PC. Therefore, if you are using Windows, Windom remote desktop is one of the best screen sharing tools.   
Mikogo

 
In addition to Windows screen sharing and video conferencing, Mikogo has multi-user whiteboard and session scheduling capabilities. The premium edition of this tool is merely a showcase of the features that customers lose out on if they do not subscribe, as most of its functions are locked behind the premium subscription.
Indeed, Mikogo is easy screen sharing tools. Mikogo provides cross-platform screen sharing and video conferencing and is available for macOS, iOS, and Android. You can select which application window to share while using screen sharing. 
Microsoft Team 

 
With the aid of Microsoft Team, you may share your screen with your audience during online conferences. These tools can build cooperative classrooms. Additionally, it enables you to communicate with employees and students in one location while connecting with professional communities. Hence, Microsoft team is also an easy and best screen sharing tools.   
TeamViewer

 
A remote access, screen sharing, and monitoring tool is called TeamViewer. At least one meeting must occur before one member transfers the computer control to another. Hence, TeamViewer makes it easy to share the screen in just a few clicks. So, if you are searching for fantastic screen sharing tools, then TeamViewer is one of them.   
In conclusion, these screen sharing tools for Windows provide various alternatives for screen sharing your computer with others. These applications can help you share your screen for collaboration, remote support, or a presentation.
These screen sharing tools offer a simple and efficient way to share your screen with other people. They have various features and capabilities, such as sharing certain windows or applications, real-time interaction, and compatibility with different operating systems. The best part is that many of these tools are free (or offer a free version), making it simple to choose the one that best suits your needs.