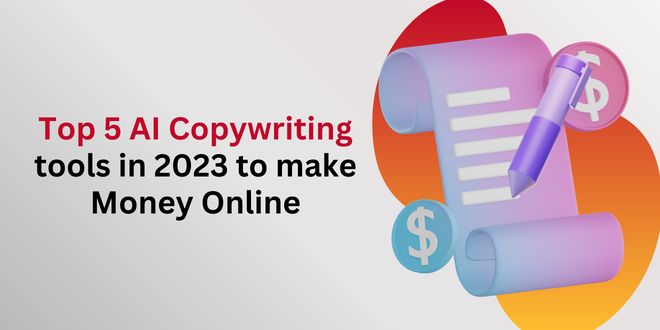 If you are you looking for a way to make money online in 2022, then you may want to consider using AI copywriting tools. There are a number of different AI copywriting tools available on the market, and they can all be used to help you make money online.
Here we have the list of the most popular AI copywriting tools in 2023. This tool can help you with a number of tasks, including creating content, optimizing your website with latest trends, and improving your SEO.
If you are serious about making money online in 2022, you will need to invest in some quality AI copywriting tools. These tools will help you create better content, improve your website, and improve your SEO. With the right tools, you can make a lot of money online in 2022.
In today's world, content is king. If you want to make money online, you need to have great content. And one of the best ways to create great content is to use AI copywriting tools.
There are a lot of different AI tools out there, but which ones are the best?
Following are the list of top AI Copywriting tools in 2023 picks.
A] Copysmith AI
With the use of cutting-edge copywriting software called Copysmith, you can turn your words into persuasive copy in a matter of minutes. Artificial intelligence is used to do all the tedious job, saving you hours of time-consuming research and analysis.
B] Copy.ai
Copy.ai is another great AI copywriting tool that can help you create compelling content. Another cutting-edge but user-friendly AI-powered copywriting tool is CopyAI. This application can quickly write social media material for your preferred sites, SEO blog pieces, or digital ad copy for your favourite platforms.
CopyAI, in contrast to Jarvis, lacks a natural writing method for long-form content, making it more suited for brief sales copy.
C] Closercopy
With over 50 templates based on tested copywriting frameworks like AIDA and PAS, Closerscopy is a more thorough AI copywriting tool. Although you may also use this tool to generate lengthy blog entries, it is primarily used to write short copy and long sales page content.
Closerscopy doesn't give a trial, thus you must make a commitment before using it, unlike all the other AI writing tools. They do, however, provide a 30-day refund guarantee if you decide it's not right for you.
D] Writesonic:
With Writersonic, you can create entire SEO-optimized articles and effective marketing content that will raise your Google ranking. Also very user-friendly is its interface. Use the AI Article Writer tool while creating blog entries.
E] Jarvis AI
The goal of Jarvis AI, originally known as Conversion AI, is to assist marketers in producing highly effective content rapidly based on tested copywriting frameworks. Its most popular templates are those that utilize the AIDA, PAS, and Before-After-Bridge frameworks.
When you upgrade to the Boss Mode plan, you get to create an unlimited number of words every month, unlock the Compose button so you receive more lines without needing to write some more content, as well as use text commands to instruct Jarvis to do precisely what you want
These are just a few of the many AI copywriting tools out there. If you want to make money online, be sure to check out all of the options and choose the one that is right for you.
Conclusion
AI copywriting tools out there. If you want to make money online, be sure to check out all of the options and choose the one that is right for you. If you need guidance on all the latest technological updates, then make sure you read more blogs on All Day Technology website.