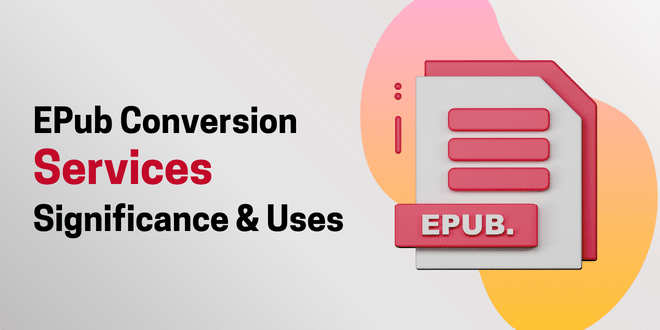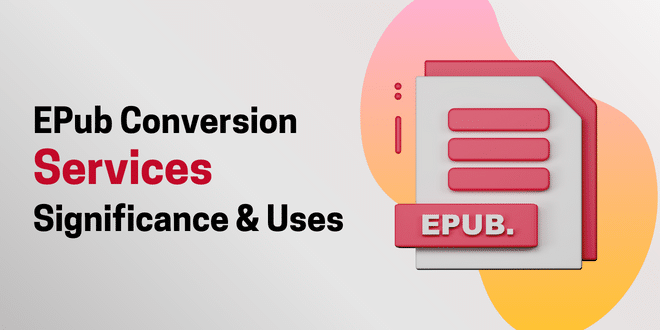 In the recent past, the significance of eBooks has increased to a great extent. The global pandemic has further added to the gradual phasing out of paper-based books. Since publishers and authors weren't able to publish or manufacture books owing to the pandemic lockdowns and movement restrictions, they preferred selling their content electronically to people.
eBooks serve as an engaging and convenient method for people to meet their reading needs with ease. You can get access to the content of your choice anytime and anywhere in a jiffy in just the palm of your hand.
The interactive images, graphics, and multimedia of eBooks are great at keeping the readers hooked and making them want more. With eBooks playing an immense role in digital transformation and making reading more fun, the services of eBook consulting and eBook conversion has also risen in demand.  
eBook Conversion Services
The method by which physically published books are converted into online books is called eBook or epub conversion services. With the growing demand for eBooks among people, the need for converting physical books to digital format is also increasing.
Also, books are a great source of learning materials that play a key role in people's lives and provide them with an abundance of information and knowledge to help them lead better lives.
A lot of publishing houses have now begun releasing their physical books and eBooks simultaneously. Some people still feel that eBooks are not as effective as physical books; however, this is not the truth. The distinct formats in which eBooks are published have made access to information easier and faster.
Also, it is much more hassle-free for people to scroll through pages than to turn each and every page individually. When it comes to cost, eBooks are way less costly compared to their physical counterparts owing to the easy process of production.
The innumerable advantages of eBooks have made multiple online platforms motivate beginner and seasoned writers to depict their writing skills by distributing and writing their eBooks. Nevertheless, regardless of the content quality of your eBook, badly formatted eBooks can be quite a turn-off for readers and not worth their investment and time.
You might even end up losing your readers as they might not be interested in the design and formatting of your eBook. Hence, the most favorable option for authors is to work with corporations that have a good amount of expertise in formatting eBooks and are known for their skills and experience in eBook design.
When you work with a trustworthy provider of epub conversion services, you can be assured of delivering a delightful reading experience to your readers. Owing to the technical experience of the service providers, a reliable eBook design service provider can help you in fine-tuning the audio and video content of your eBooks, boosting their quality.
The service providers make eBook reading a memorable and engaging experience for readers. Moreover, organizations can depend on epub service providers to convert their business manuals or books into eBooks. The best part about using the services of these providers is that the eBook formats designed by them are compatible with iOS and Android devices.
Why You Need to use Epub Conversion Services
If you are an author or publisher who aspires to compete in these technologically advanced and competitive times, you need to convert your physical books into digital ones. This will allow you to boost the reading experience of your readers and diversify the reach of your brand along with increasing the net profit of your publication.
If you wish to increase the digital presence of your publications, eBook conversion and eBook consulting services are pivotal for you. This way you'll get to make your texts and books available to customers in distinct formats and on distinct devices like tablets and smartphones.
However, converting a physical book into an eBook format can be quite challenging. It requires a lot of expertise and effort to analyze the digital platform to be utilized, the digital publishing tool to use, the way to design an eBook, and any other elements required for eBook conversion. To make things easy, it is always beneficial to work with providers of epub conversion services.
 The most important eBook formats
There are multiple eBook formats available these days and trying to convert your eBook into every possible format available is not possible. Let's have a look at some of the most important eBook formats available that you can use to offer your audience a satisfying experience:
A] PDF (Portable Document Format)
PDFs are the most common and widely used formats of eBooks. This format is developed by Adobe and is known for its great functionality. Readers can easily access their PDFs from any device. However, since the content structure in this format is a little rigid, reading on small screens of smartphones can be a bit challenging.
B] Mobi
Mobi is a renowned eBook format that can be accessed on distinct devices. It is known for its user-friendly, interactive, and cutting-edge features and helps publishers in improving the reading experience for their users. Also, the Mobi format provides extra formatting features if you'd like to add notes, highlights, pages, bookmarks, etc., to your eBook.
C] Epub (Electronic Publication)
Epub is one of the most influential formats of eBooks. It is backed by more than 200 digital publishing and online reading platforms including Sony Reader Store, Barnes & Noble Nook Books, and Apple iBookstore.
Kindle users cannot presently read eBooks in the epub format. If you want to read your epub book on your Kindle, you need to utilize a 3rd party software to convert your eBook from epub to Mobi format that can be read on Kindle. Epub supports reading materials with both flexible and fixed layouts and is compatible with iOS and Android devices.
Summing up
With more and more publishing houses and writers wanting to incorporate rich multimedia information into their eBooks, the process of converting physical books to eBooks can be quite challenging. Owing to the rich technical expertise needed for conversion to eBooks, it is best to hire epub conversion providers so that you can avail the best possible outcomes.
FAQ Of E-Pub Conversion
EPUB, short for electronic publication, is a widely-used file format for eBooks. It is an open standard format that allows for the creation and distribution of digital books and other types of content, such as articles and magazines. Because of its popularity and easy conversion process it can be easily converted in PDF, MOBI, and AZW format.
One of the easiest ways to convert an EPUB file is to use an online converter. Websites such as Zamzar allow you to upload your EPUB file and convert it to a variety of other formats, such as PDF, MOBI, and AZW. These online converters are easy to use and often require no additional software to be installed on your computer.
An EPUB (Electronic Publication) file is a digital book format that is widely used for e-books and other digital publications. One of the main advantages of EPUB files is that they are an open standard, highly customizable. In addition, EPUB files are also very portable and lightweight. They are smaller in size compared to other digital book formats, which means they can be easily stored on a variety of different devices. It also means that it can be easily download and transfer to another device.