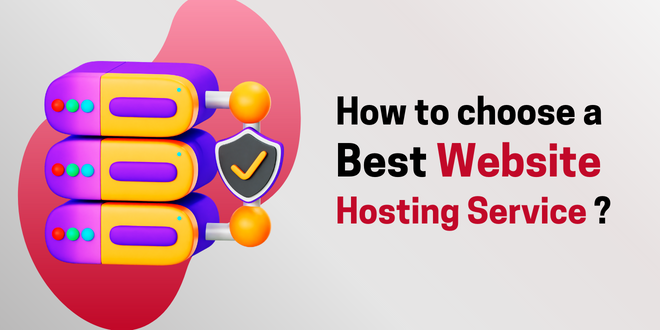 You need a website in order to grow any internet business. However, do you know the last prerequisite to lay a solid foundation for your website? You cannot undervalue the significance of reputable web hosting service providers in today's cutthroat internet environment.
Numerous domestic and international companies offer high-quality hosting services, free dedicated server installation, and online user presence enhancement. You need the best hosting service company that is reputable if you want to create an accessible and well-performing website. Selecting the inferior ones will get you into problems and slow down your website.  
Purchase a bare metal server to improve the performance of your website because these servers are the best and provide a secure hosting environment. Because of this, all server resources are devoted to hosting users' hosting account users' websites and online apps.  
What Qualifies as A "Good Web Hosting Service Company ?"

 
The ideal web hosting provider has no precise definition, and there is no definitive literature on the subject. But you should double-check a few of the key characteristics that make a web hosting provider ideal for you.   
One should consider the following points:  

 
Its performance and speed are crucial to get the most out of a website. Page loading speed is vital for SEO optimization in order to achieve higher search engine rankings. Speed is influenced by a number of factors, including image optimization, hosting, webpage size, and others. So, as stated by the daily technology news, you require a reliable hosting server that offers consistent website uptime.  
Users everywhere place the highest premium on website security. Numerous hacking incidents that happen every day demonstrate how open your website is to possible risks to data security. To protect your website, the best web hosting provider offers SSL certifications.  
Web hosting is a service that allows individuals and organizations to make their website or web application accessible on the internet. The web hosting service stores all the files that make up the website, such as images, videos, text, and code, on special computers called servers.
The most popular types of web hosting service include:

 
Shared hosting, which is ideal for websites with little traffic and less server impact 

VPS Hosting: This kind of hosting package offers complete protection and is suitable for mission-critical web applications. It divides a physical server into numerous virtual servers, each with its own set of resources. 

Dedicated hosting: Users of dedicated hosting plans do not share any resources with those of other hosting account holders. 
Due to daily technology updates, numerous other web hosting services, such as cloud hosting, reseller hosting, and other hosting services, are available to meet the various needs of consumers.  
Free Web Hosting Sites for students and developer to test developed Website
Critical Advantages of Employing a Reputable Web Hosting Company 

 
A] Increased Safety 
Your website or domain is protected from various risks to data security by the SSL (Security Socket Layer), a security layer. We trust you understood the terminology (HTTPS). That "S" symbolizes your website's security.
It implies that all private data on your website is shielded from any hacking techniques. Thanks to SSL, information on websites is automatically encrypted and secure against hacking. You must priorities more robust security if you manage mission-critical websites, such as eCommerce or others. 
B] Technical Support 
The biggest issue with low-quality web hosting companies is that they do not give dependable technical support. Because of this, people occasionally risk losing private information from websites or suffering revenue decline. Any downtime or technical issues with your website can have a detrimental impact on your analytics, search engine rankings, and conversion rates.
Reputable web hosts provide their customers with around-the-clock technical help. To answer consumers' questions, the majority of them offer email and live chat help. When something goes wrong, they provide assistance, backup copies of your data, as well as knowledge and equipment. 
C] Improved Site Performance 
Websites are valuable assets that you may use to display your internet presence. They help you run your business and bring in customers. As a result, even one second of downtime might have an impact on your search engine rankings. Therefore, pick a reputable web hosting company with high-quality servers with uptime guarantees above 99%. 
D] Affordable and high-quality 
You pay service providers to supply you with high-quality web hosting services. It does not imply that you should put all your money into them. A reputable web host will always provide customers with cost-effective web hosting plans.
Additionally, they offer a variety of programmers based on the needs of the users. For your small-scale websites, they might provide you with economical shared hosting solutions.  
Conclusion  :

 
The success of your website may be significantly influenced by the quality of your web hosting provider. You may increase the number of leads and sales your websites generate by selecting a reliable web hosting provider.
To know more about latest technology trends of web 3.0 with blockchain technology can help you to know the future trends of website technology.
Reputable hosting companies like All Day Technology offer guaranteed server resources with alluring extras like control panels, round-the-clock server assistance, a one-click installer, and more. 
Common FAQ for Web Hosting
1] Shared hosting: This is the most basic and affordable type of web hosting. With shared hosting, your website is hosted on a server along with several other websites. This is a great option for small websites or personal blogs that don't receive a lot of traffic.
2] Dedicated hosting: With dedicated hosting, you have an entire server all to yourself. This is the most expensive type of web hosting, but it offers the most power and control. It's a good option for high-traffic websites or websites that require a high level of security.
1] Bandwidth : This is the amount of data that can be transferred to and from your website each month. As your website receives more traffic, you'll need more bandwidth to handle the increased traffic.
2] Security : Hosting providers have to provide a secure environment for your website so that the data and the website is not compromised.
3] Technical Support : A good hosting provider will offer 24/7 technical support, so you can contact them if you encounter any problems with your website.4] Backup : Regular backups of your website data is important to ensure that you can restore your website in case of any data loss.
1] A web host, also known as a hosting provider, plays a crucial role in making sure a website is accessible to the public via the internet. The primary role of a web host is to provide storage space and a connection to the internet for a website.
2] When you host your website with a web host, the host will store all the files that make up your website, such as HTML, CSS, JavaScript, images, and videos, on their servers. These servers are connected to the internet, which allows visitors to access your website by typing in your domain name.
3]A web host also provides an IP address for your website, which is a unique numerical label assigned to each device connected to the internet. This IP address is used by the Domain Name System (DNS) to translate your domain name into an IP address, so that visitors can access your website