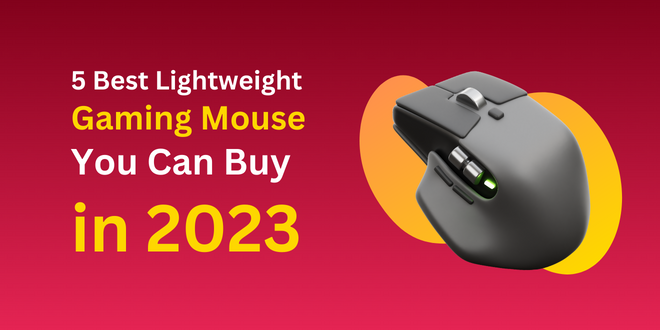 With a lightweight gaming mouse, you can perform motions more swiftly, and if you play fast-paced, competitive games, even an extra millisecond can make the difference between winning and losing. Consider more than just the total weight while shopping for the lightest gaming mouse in 2023 that suits you, such as comfort, click latency, and connection type.  
The top lightweight gaming mouse available right now are listed in this article. Remember that all the mice we've featured weigh far less than 75g, making them perfect for games that demand frequent, accurate mouse movements. This mouse should therefore lessen the stress on your wrist as well. You can select the gaming mouse in 2023 that best meets your needs by looking at the wired and wireless options we've provided. Here are the top five lightweight gaming mouse.  
Razer Viper V2 Pro: 

 
RGB: Yes | Weight: 61g 
The Razer Viper V2 Pro is the greatest portable and lightweight gaming mouse. The most recent addition to Razer's Viper portfolio is lighter than earlier models in the series while maintaining the same cosy, symmetrical design. Because it is 16g more lightweight than the Razer Viper Ultimate from the previous generation and weighs only 58g, this mouse makes quick, accurate movements in games much simpler.   
The recently introduced Focus Pro 30K sensor, one of the most precise and reliable ones we've tested, is another noteworthy addition to the sensor package, which makes this model an excellent option for playing competitive, fast-paced games. It employs optical switches, like other Razer mice, which are intended to minimise double-clicking issues that regular mechanical switches can acquire over time. It also has an incredibly low click latency.   
If you don't like the low-profile design of the Viper, you might like the Logitech G PRO X SUPERLIGHT. It features a 'safer' form for a broader range of hand sizes and grip styles and weights about the same. Unfortunately, it has a less sophisticated sensor, less robust button switches, and still charges using an antiquated micro-USB cord. 
Lamzu Atlantis: 

 
The LAMZU Atlantis is the most incredible lightweight gaming mouse available at upper mid-range pricing. Although LAMZU has been quick to refill, check back soon if this mouse is out of stock when you read this. It has generated a lot of buzz since its release in December of last year. A distinctive option for claw grip users, it comes in various expressive colours and has a symmetrical form that widens at the back.
It utilises PixArt's newest flagship PAW 3395 sensor, which is closely connected to the sensor in our top pick, the Razer Viper V2 Pro, and provides excellent click latency. Transparent plastic struts make up the bottom plate of this mouse. This design keeps the overall weight as low as possible and adds a lovely aesthetic touch. Although the bottom plate isn't quite as strong as typical solid plates on most other gaming mice in 2023, it also exposes the interior to dust and debris more.  
Conversely, the Pulsar Xlite V2 Wireless provides comparable gaming performance and is typically a little less expensive if you're more interested in a mouse with a prominent right-handed design. But it's also a little heavier, and instead of a solid plastic shell in the palm area, it includes weight-saving cuts in addition to a comparable baseplate. 
Hyperx Pulsefire Haste 
Although RGB is technically supported here, it only extends to the scroll wheel's sides. The mouse itself could be more exciting aside from that. Thankfully, you can get the device in various hues if you want to switch up your look.  
With the mouse, you may programme up to 16,000 DPI. However, the lightweight gaming mouse has one DPI switch, similar to most other options. As a result, changing profiles while on the road can be complicated.  
The mouse comes with six programmable buttons that may be altered using the HyperX NGENUITY software, and this programme uses fewer resources than most alternatives, which is always advantageous. The customising possibilities themselves, though, are somewhat constrained.  
Interestingly, HyperX has many package deals available. You may combine the mouse with headphones and a keyboard from HyperX if you require a total redesign, saving money. 
Steelseries Aerox 5 

 
The SteelSeries Aerox 5 is the most chosen lightweight gaming mouse available for a reasonable price. It offers a tonne of customization without being prohibitively expensive. Nine programmable buttons, including a 5-button action panel, are included. So, to add more programmable buttons to the mix, you only need to flip the side button up or down. According to user reviews, this is the Aerox 5 gaming mouse aspect that customers adore the most.  
The TrueMove Air Sensor, which is well-regarded in the community, supports the mouse's tracking. Even tilt-tracking is available here, which makes it simple to change your grip or aim by elevating the mouse. You should not be concerned about ghost touches at the same time.  
Also, it is superior to rivals because it comes with a USB-C cable. Even though some competing products have mesh protection, the cable might, over time, bend and tear off. Fortunately, if you choose the SteelSeries option, you can use the mouse with almost any other USB-C cable. Speaking of connectivity, the SteelSeries Aerox 5 is also available in a wireless configuration. Yet, the wired version provides the same functionality for around half the cost unless you require wireless connectivity. 
Roccat Kone Pro 

 
We advise considering the ROCCAT Kone Pro, available for less than mid-range prices. This wired model's pricing fluctuates a lot, but it's a great affordable, lightweight option when it falls between $40 and $50. The GLORIOUS Model I, our recommendation for a mid-range mouse, also offers a curved, ergonomic design for right-handed users. Its form is a natural fit for palm or relaxed claw grips for most hand sizes and offers additional comfort that can help keep your hands from getting weary or hurting, even during long gaming sessions.  
Whether you play at a highly competitive level or more informally, this mouse can give quick, responsive gameplay because the sensor performance and click latency are excellent. Also, this mouse's left- and right-click buttons include stunning RGB illumination that shines brilliantly through semi-transparent plastic. If you're seeking a lightweight gaming mouse, you can find one that doesn't sacrifice style. This one stands out from the competition since it has this unusual function on a gaming mouse in 2023. 
Last Thought
The lightweight gaming mouse we suggest is currently the lightest option that works best for most users. We consider availability, visitor comments, and price (a cheaper mouse will prevail over a more expensive one if the price difference isn't significant)  
We have created a unique table of all the mice we've tested, ordered by weight if you want to pack yourself. Be careful to avoid becoming bogged down in the particulars. While no mouse is perfect for every application, most mice are excellent enough to satisfy the majority of users, and the differences are frequently not apparent unless you pay