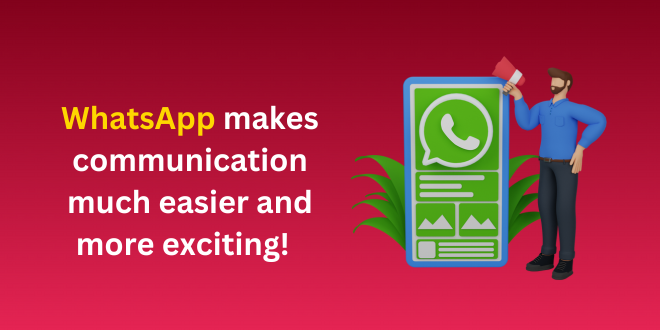 WhatsApp is the most used app around the world, as it is very coinvent and accessible for any generation. Also, WhatsApp always tries to get new features on its every update, making it more fun. The new features on WhatsApp make your communication with your loved one more memorable.  
Unique and New Features of WhatsApp: –  

 
There are many features on WhatsApp, such as stickers, Voice Notes, Creating Groups, and even creating or clicking pictures and videos and sending them to anyone with the fantastic feature WhatsApp on their recently updated introduced WhatsApp call Link. Yes, now you can even call or have a video call with your loved ones, and the amazing part is that you can have one-to-one calls or even group calls.  
If you are a WhatsApp user and prefer to talk by voice or video, this feature call link is beneficial. All you need to know about WhatsApp Call link and how to create them are below.  
What does WhatsApp Call Link Means?  

 
WhatsApp has made an easy feature called connecting calls, in simple words, conference calls. Before, you had to choose the hard way by calling everyone and telling them to join a group call to have a conference call. But not anymore. Now you need to share the link for a video or voice call and have a beautiful conversation. The people you have invited to call might decide whether to join it immediately or later. You can create the link on Android and IOS.  
WhatsApp Call Link has made the conversation in the group much simpler, and you must follow a few clicks, that's it. To have a conference call, you need to create a link, don't worry. WhatsApp provides a URL (Link) for each connection you want. The most crucial thing is to save or send the WhatsApp call link to the recipients as soon as it is created. Also, the link will expire 90 days (about three months) after you make it. Now, scroll down more to understand how to create a WhatsApp call link and how to send it. 
How to create a WhatsApp Call Link ? with Step By Step Instructions

 
To create a WhatsApp call Link: 
Cross-check

if your WhatsApp is updated to the most recent vision.

 

If not, go to your Play store/App Store and update your WhatsApp. Later, follow the instructions to make your WhatsApp Call link. 

 

Get on your WhatsApp.

Click on the Calls Section
Select Create Call Link at the top.

Choose the Call Type on the Create Call Link card between Voice and Video according to your preferences. 

Pick the contact(s) you wish to share the link by clicking Share Link using WhatsApp, then click Next and Send. 

Alternatively, you may click on Share Link and choose another messaging app or service you wish to send the link by selecting it from the list. You can also choose Copy Link to copy the call URL, which you can then share or keep as you see fit. 

 
If you have sent the link via WhatsApp, anyone can join your call by clicking on the URL/ WhatsApp Call Link. If someone has missed the call and wants to join in the middle of your conference call, the link preview in the chat can easily be accessed by joining the call again on the phone screen. In short, they can click the link to view it in WhatsApp and select the join button to join, whatsoever, if you shared it using another app or other mobile services.  
Conclusion:   
You can have a conference call from the WhatsApp Call link on your IOS or Android. So, follow the steps and have a group call without any hesitation. Also, it won't be possible for you to try this on your Web. Yes, a WhatsApp call link is not currently supported on a desktop, but if you connect your WhatsApp on your laptop by scanning the QR code, you can also enjoy your conference call on your desktop. What are your thoughts on this new feature of WhatsApp?