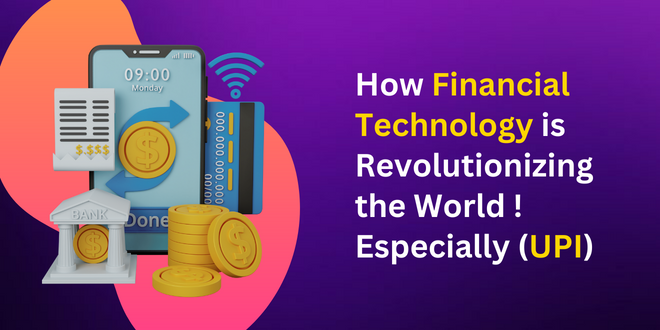 Financial technology, commonly known as "fintech," has grown rapidly in recent years, transforming the financial industry and how people manage their finances.
Here are three top financial technologies:
1] Mobile Payment Platforms : Mobile payment platforms like PayPal, Venmo, and Square have revolutionized how people transfer money and make purchases. These platforms enable users to make transactions quickly and securely from their smartphones, eliminating the need for cash or physical credit cards.
2] Robo-Advisors : Robo-advisors are digital platforms that use algorithms and artificial intelligence to provide automated financial advice and investment management services. These platforms offer low-cost investment options, personalized portfolio management, and advanced analytical tools, making investing more accessible to a wider range of individuals.
3] Blockchain Technology : Blockchain Technology, which underpins cryptocurrencies such as Bitcoin and Ethereum, has the potential to transform the financial industry by enabling secure, transparent, and decentralized transactions.
Blockchain technology can streamline the process of settling financial transactions and provide enhanced security, reducing the risk of fraud and enabling faster and more efficient transactions.
Overall, fintech is a rapidly evolving field, and there are many other innovative technologies that are changing the financial landscape, such as online lending platforms, digital wallets, and personal finance management tools.
Financial technology, or fintech, has numerous benefits that are transforming the financial industry and the way people manage their finances.
Here are some of the key benefits of fintech:
1] Greater Access to Financial Services : Fintech has made it easier for individuals and businesses to access financial services, even in remote or underserved areas. With the rise of mobile banking and online lending platforms, more people can access loans, open bank accounts, and manage their finances online, without needing to visit a physical bank branch.
2] Improved Efficiency : Fintech has improved the speed and efficiency of financial transactions. With mobile payments, for example, individuals can transfer money quickly and easily from their smartphones. Online lending platforms and robo-advisors also use advanced algorithms to automate financial processes, making them faster and more efficient than traditional methods.
3] Lower Costs : Fintech has reduced the cost of financial services, making them more affordable and accessible. Online lending platforms and robo-advisors, for example, offer low-cost alternatives to traditional banks and financial advisors.
4] Increased Security : Fintech has also enhanced the security of financial transactions. Blockchain technology, for example, uses cryptography to secure and validate transactions, reducing the risk of fraud and enabling faster and more efficient transactions.
5] Personalization : Fintech has enabled the development of personalized financial products and services. With the help of machine learning and artificial intelligence, financial institutions can offer tailored investment advice, customized insurance policies, and personalized banking products based on an individual's financial goals and preferences.
Overall, fintech has the potential to improve financial inclusion, reduce costs, enhance security, and increase efficiency in the financial industry, ultimately improving the financial well-being of individuals and businesses.
UPI – India's one of the Best Financial Technolgy
Unified Payments Interface (UPI) is an example of financial technology that has transformed the way people in India make digital payments. Launched in 2016 by the National Payments Corporation of India (NPCI), UPI is a real-time payment system that enables individuals to transfer money between bank accounts instantly through a mobile app.
Here are some of the features of UPI :
1] Instant Payments: UPI enables instant transfer of funds between bank accounts, 24/7.
2] Mobile-first Design: UPI is designed for mobile devices, and the user interface is simple and easy to use.
3] Interoperability: UPI is interoperable across multiple banks and mobile apps, enabling users to make payments to anyone with a UPI ID.
4] Multiple Payment Options: UPI supports multiple payment options, including QR code scanning, account number and IFSC code, and Aadhaar number, making it easier for users to transfer money.
5] Security: UPI uses two-factor authentication, including a UPI PIN and biometric authentication, to ensure secure transactions.
Overall, UPI has made digital payments more accessible, faster, and more convenient for people in India, and it has contributed to the growth of India's digital economy. Multiple Fintech company have started different variety service which has begin new revolution in India.