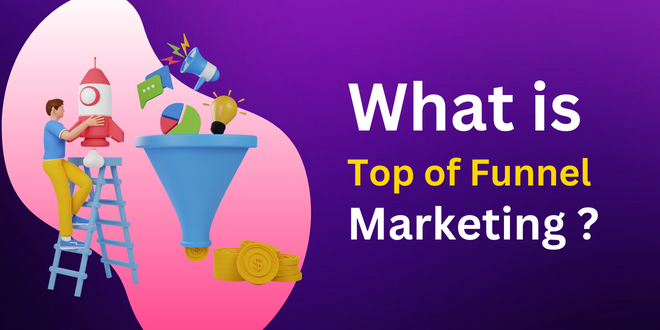 There are many different forms of content you can produce as part of your top of funnel marketing, from animated movies to highlight your brand to long-form instructive blog entries. However, you first need to comprehend your overall objectives and main priorities for marketing at the top of the funnel.  
A marketing funnel describes your customer's path. An individual learns about your company and brand at the top of your funnel. The goal is for customers to eventually make a purchase and turn into devoted clients by moving through your funnel as it gets smaller.  
Funnel marketing aids in your understanding of the steps necessary to persuade buyers at each stage. The marketing funnel must function as a whole for the trip to be effective and reduce friction. You want to let people know you exist and appeal to a wide audience in the awareness stage or top of the funnel in a way that will make them receptive to subsequent encounters with you. You then go to consideration, conversion, and allegiance from there.  
Top of Funnel Marketing :

 

What is it? 

 
When marketing at the top of the funnel, you should concentrate on luring potential clients. Customers at the top of your sales funnel haven't interacted with you yet and are most likely unfamiliar with your brand. At this step of the funnel, you want to start gathering possible leads and educating potential clients about your goods and services.  
Your top-of-funnel marketing can specifically assist with the following: 

 
Increase sales:

 You can inform consumers about your goals or brand, but depending on your sales cycle, you might also give them a simple way to purchase. When someone interacts with your top-of-funnel material, you can provide them with a variety of options. For example, you can include a call-to-action in each of your blog entries, or you could entice viewers to subscribe so they can access more of your stuff. 

 

Boost SEO:

 By using digital marketing at the top of your funnel, you may make your website rank higher and attract more visitors to your blog articles, videos, and website. 

 

Brand recognition:

 The more consumers are aware of your brand, the more likely they are to make a purchase. 

 

Lead generation:

Top of funnel marketing strategies may involve lead-gen efforts to help you collect prospective customers' contact information.

 
Qualities of Top-of-Funnel Content That Works 

 
When you are in the awareness stage, you should concentrate on making your content visually appealing. To increase your reach, you need appealing, captivating graphic components that will aid in conveying your message effectively. Along with infographics, you may incorporate films into your top-of-funnel marketing campaigns.  
To create a connection between your overall brand and your audience's minds, be consistent with things like colours and visual branding. For consistency, you might want to adhere to a style manual. A component of successful content at the top of your marketing funnel might be storytelling. Show how you resolve a dilemma or handle a challenge.  
Types of Content for Your Funnel's Top 

 
Ultimately, every brand's funnel and how it develops will be distinct. However, some of the content kinds that are effective here include:  
Landing pages:

 

These are personalised web pages that promote engagement with your brand. Although landing pages can be used throughout your funnel, you want to be sure that your header makes a strong first impression at the top so you can get the complete benefits of the funnel. Use social proof, stay away from jargon, and add relevant keywords. You might start a long-term relationship with clients here.

 

Videos:

 As was already noted, videos are fantastic for the top of your funnel because they are highly visual, draw attention immediately, and can easily convey information. 

Swift and easy to understand: At the top of your funnel, you may tell a story or offer educational stuff. Additionally, you can demonstrate the capabilities of your good or service. Videos can also be used to exhibit how customers actually use your goods or services. 

 

Social media:

 Top-of-the-funnel social media marketing is one of the types of the funnel. Through social media funnel marketing, you can interact with other companies or consumers who seem interested in your industry. Many brands include paid advertisements in the awareness stage since they are an inexpensive and relatively simple way to promote their brand in front of as many consumers as possible. Also by writing attractive caption's using ai content writer tools of which can boost digital conversion to your product page.

 

Infographics:

 This potent style of visually driven content may simplify otherwise more complex ideas into easily digestible chunks of knowledge. Make careful to brand your infographics if you create them. 

 

Blog entries:

 By using blog postings at the top of your sales funnel, you can inform or assist potential clients, positioning your company as a trusted resource and subject matter expert. Blog postings don't always serve as sales pitches; instead, they establish relationships to generate future business. Because of SEO, blog postings are also ideal at the top of the funnel. You will move higher in the ranks if you optimise your blog entries for search engines, which will make it easier for more potential clients to locate you and start doing business with you. 

 
Lastly, podcasts are beneficial for your top of the funnel. You could produce non-sales-oriented podcasts that anyone can access for free. Instead, you might talk about common issues individuals have that are connected to your industry, or you may get information from specialists.