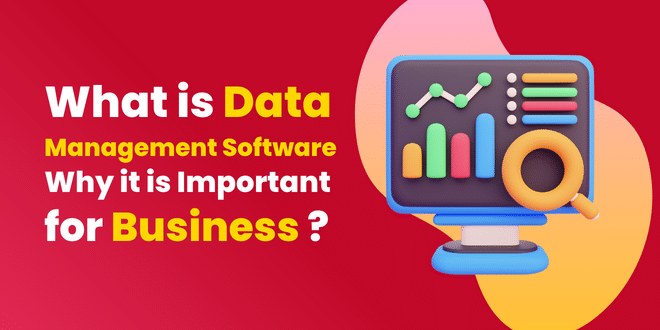 Managing enterprise data is a way to store, organize, and maintain important information. Proper data management becomes easier by deploying the best software that provides analytical details.
What is Data Management software ?
Data management software is a term used to describe a framework that is built and maintained to store, manage, and preserve the data essential to a modern organisation. The programme can be used by users to build a customised database that meets their needs for reporting and analytics.
Organizational data is a valuable resource, and your team has collected it from different sources. Thus, to avoid losing significant information, you can choose data management software. In this article you will get to know what is data management software and How to can add value to your business ?
A company gathers data from ERP systems, CRM platforms, social media, and several other platforms. Moreover, it has to comply with different regulations. The vast amount of data is not easily manageable. So, investing in data management solutions is the smartest decision. An innovative platform designed for managing data helps you in a range of ways-
Make your business cost-effective
You need to manage your data to save the cost of running your business. It will prevent the risk of data duplication. Store your data and make it easily accessible to your team members. Your employees do not need to do research and analysis several times.
Increase your business productivity with data management
The best data management software has features to increase the productivity of your organization. Irregular and improper management of enterprise data will affect your business negatively. An innovative application lets you develop the most effective data format, which is easily sharable. You should also store your data for future reference.
Minimize security risks by managing your data
Business data not managed properly may be at risk. It will fall into hackers' hands. To save your organizational data from cyber-attacks, you have to use security software. An advanced data management system lowers the risk to your business.
Better quality data
Efficient data management ensures easier access and better data quality. Your team can easily find the details essential for a particular purpose. By analyzing data, your professionals can make the right decision.
Stay compliant easily
It is now mandatory for some organizations to secure their financial and legal documents. As a business owner, you need to abide by the laws. Your records are also essential during regular audits. In case your company has involved in a lawsuit in the future, you need to present the stored data as proof.
Thus, keep your documents secure for several years.
Faster transitions to the latest technology
As there is a rapid evolution of technological trends your business needs to embrace them without delay. Do not let your business lag behind due to a lack of technological implementation. Never lose your data to an outdated system. Every piece of information is important for your daily business operations. So, a data management platform ensures that all departments of your company find value from relevant records.
The business presents you with a fast-paced environment, and you have to ensure that data is at your disposal anytime. Both B2B and B2C companies have to focus on data storage and management.
To develop a solid approach to managing data, you need a data management platform from Zoftware Hub that will find better business performance, prevent data breaches, and solve regulatory compliance issues.